Winner: Hall of Fame
Robin Boyd and Frederick Romberg for Jimmy Watson's Wine Bar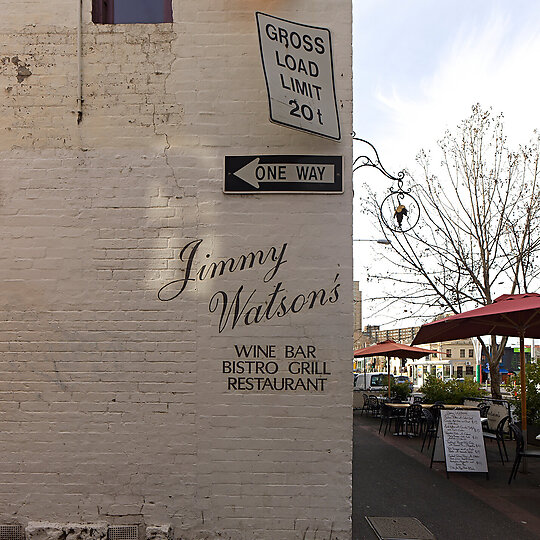 Jury Citation
Jimmy Watson's Wine Bar is not only a significant project of Australian Modernism, but a landmark in Australian dining. Designed in 1962 by Robin Boyd, it makes manifest his well-publicized and influential attitudes to modernism – Platonic form and proportion, functionalism, expressive materials and structure, and resistance to "featurism." Jimmy Watson's celebration and promotion of Australian wines and bistro dining based on Mediterranean and local influences represents a turning point in Australian gastronomy towards a relaxed regionality and cultural fusion.
Still owned and operated by the Watson family, the Wine Bar was originally bought by Jimmy Watson in 1935. The building originally consisted of three shops: two housed a wine bar and the third the Monarch Bakery. The wine shop was only licensed to sell Australian wines. Under Jimmy's management, the bar attracted a new clientele from the University of Melbourne, in addition to retaining regulars from the Carlton neighbourhood. Jimmy's son, Allan, recalls, "The old ladies' lounge area became the territory for the university mob while the locals stayed on at their end of the bar. [Jimmy's] became a regular meeting and dining place for many from government, business and the services. One room became known as the 'house of lords,' as senior heads of the military regularly used it. The Monday Club was a weekly gather of businessmen. Roy Grounds [of Grounds, Romberg and Boyd] and other architects were regulars, and many still are today."
In 1962, when licensing laws changed, Watson approached Grounds to redesign the Wine Bar to comply with the new laws, which required the introduction of a kitchen and restaurant. Grounds was preoccupied with his commission for the Arts Centre Melbourne, and directed the project to Boyd, now in the newly formed partnership of Romberg and Boyd. Watson says, "I let him have his head."
Almost classically composed, the mass and streetscape of the building evokes vernacular precedents and alludes to Italian and Greek multiculturalism, yet it encapsulates 1960s Australian "Mediterranean modernism." With a substantial reworking of three shops into one ground-floor dining area, and a void linking upper and lower levels, the design plays on its location – 333 Lygon Street – to set up a trinity of spaces, and a powerful composition of three portals and high windows in the facade. Internally, volumetric drama contrasts with casual fitout: utilitarian bentwood chairs, robust timber tables, white textured walls and minimal adornment. To this day very little has changed, though the original timber floor has been replaced with tiles. Similarly, the menu continues its theme of expansive but casual conviviality, and of actively fostering the Australian wine industry in its cellaring. The courtyard garden is one of the best in Melbourne – protected, lush and intimate.
Through its sophisticated interpretation of international and regional influences, Jimmy Watson's expresses its role as a meeting place of cultural significance in mid-century Melbourne; a shared space of sociable exchange between the "Little Italy" of Carlton and the intellectual life of the university, and a memorable focus for the literary and art scene of the city.