Winner: Hall of Fame
Allan Powell Architects for Cafe Di Stasio
Victoria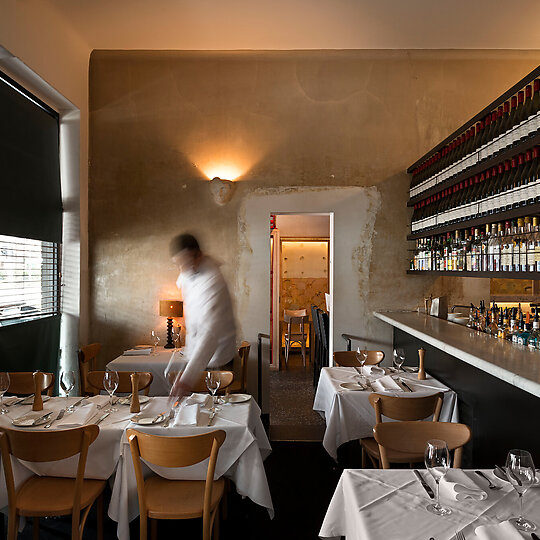 Jury Citation
Grasp the sculpted bronze hands that are the door handles of Cafe di Stasio and you grasp the essence of this iconic restaurant. It is as Italian as an effusive hand gesture, as hospitable as the owner whose hands formed the cast, as durable as the patinaed material in your hand, and as irreverent as this surprising welcome. Beyond being a staple in the Melbourne hospitality scene for twenty-five years, Cafe Di Stasio has been pivotal in transforming the gastronomic tone and amenity of its St Kilda environs, and more than any other restaurant in Australia has married the realms of food, culture and design.
Launched in 1988 by charismatic owner/operator Rinaldo Di Stasio, and designed by distinguished architect Allan Powell, Cafe Di Stasio captured the elan and indulgence of the late 1980s. Its ethos of high-quality food and service within an informal, restrained setting challenged the stuffiness of establishment prestige dining, and it quickly became a Melbourne institution itself, albeit of alternative bent. With remarkable tenacity and minimal reinvention it still maintains that status. Though there have been minor adaptations, maintenance and more recently expansion, both to the place and the Di Stasio enterprize, these have deepened the substance of the meeting and eating experience, as one of generous, culturally inflected conviviality. This is testament to the astuteness and ebullience of Rinaldo Di Stasio and his long-time partner and muse Mallory Wall, who together manage the restaurant with something between cosmopolitan cool and familial warmth.
Though it may be a cafe in name and size, this is a venue of gravitas and enduring appeal. Like the menu grounded in traditional, seasonally responsive Italian food, every design element speaks of finessed material handling, longevity and teasing tensions between classical and vernacular Italianate influences. The modest sixty-seat dining room is an architectural setting elegantly and deliberately subordinate to spatial atmosphere and ambience, with a fine balance between the visually striking and the comforting. Within its modest confines Powell has achieved strong contrasts: between worn and crisp, between bright street-front tables and shadowy corner spots, and between eccentric embellishments and understated proprietary furniture. Distressed wall finishes, novel in the 1980s, accurately presaged the permanence of the establishment, and set up a subtle balance between practical rusticity and indulgent decadence. Drama and dynamic comes from the sophisticated showcasing of contemporary artworks – Bill Henson in particular – in Di Stasio's long-term advancement of Australian art and design, as much through the symposium of the table as literal display. The whole design is in fact drawn from the notion of arte povera, its resonant materiality and intent to make something of nothing – like the "found object" of the shopfront, restored but unchanged, and utterly of the street fabric. Di Stasio and Powell set out to imbue serious dining with a simultaneously impromptu casualness, as if diners have found their own picnic space within an urban field.
Cafe Di Stasio is hard to capture in photographs, hard to work out even where the architecture is, for its persistent, pervasive attitude to eating is as part of a holistic, epicurean vita beata, never precious but always with an informed, selective and voraciously sociable appetite.