Winner: Hall of Fame
Brian Kiernan with later additions by Tyrone Dearing and Meacham Nockles for Bills Darlinghurst
433 Liverpool Street
Darlinghurst, NSW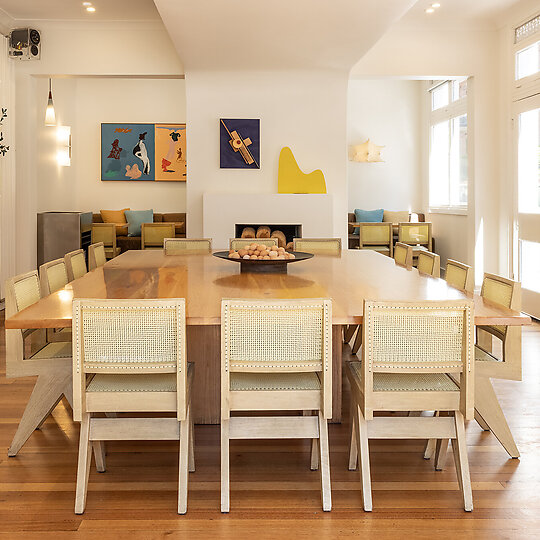 Jury Citation
Nicole Kidman and Tom Cruise. Leonardo DiCaprio. Thandie Newton. Julia Roberts. It's perhaps easier to ask about the famous faces who haven't graced the communal table at Bills.
"People felt understood and comfortable," Bills Darlinghurst owner Bill Granger says. "I don't understand why. It's not what you think a celebrity hotspot to be."
Not in the traditional sense, anyway. Twenty-eight years after Granger opened his iconic cafe in the poky corner tenancy of a narrow Darlinghurst terrace, there's a fair chance you've sat there for a recovery breakfast or a birthday date. And if you haven't perched at that table – a 16-seat solid oak number custom-made by Fewings Joinery in Mascot – you've experienced its DNA, just somewhere else. Modern Australian brunch began at Bills, before taking over the country and then becoming one of its best-known cultural exports.
Still, the table was initially a solution to a problem: "We were only allowed 28 people," Granger says. "So how do I fill that space? … It wasn't a practical thing, it was an aesthetic thing."
Aesthetic also is Granger's love of minimal Shaker design, which in turn suited the then 22-year-old's tight $20,000 budget. The table cost $12,000. Much of the rest of the money went on chairs from Melbourne's Map Furniture.
Granger had briefly studied interior design at RMIT before moving to Sydney, so had a good sense of what he wanted. Helping formalize the process was the late Brian Kiernan, perhaps best known as Paul Keating's interior architect (he'd later design Annie Lee's Fu Manchu).
"Brian's great contribution was helping keep it simple," Granger says. "He was very good at saying, 'Don't spend money. You don't need to.'"
When Bills opened, little had changed from a semi-realized cafe fitout that existed before. "It was white," Granger says. "The floorboards were the same floorboards … It was basically like it is now."
Bills was instead defined by the brilliant Sydney light that streamed through its large windows. And, of course, the vibe created by the table.
"The big table freaked everyone out," Granger says. "I went and bought lots of magazines and put a bowl of fruit [in the middle] so people didn't have to look at each other."
There were other things going on here, of course. Bills became famous for its ricotta hotcakes, scrambled eggs and the now ubiquitous avocado on toast. And Granger's experience front-of- house meant that he focused on service.
"You've got to introduce [guests to the space] and make them comfortable, and be friendly," he says. "That was more revolutionary for fashionable restaurants."
Little has changed over the years, minor refreshes from Tyrone Dearing and Meacham Nockles notwithstanding. The Map chairs are now custom-made numbers inspired by Pierre Jeanneret's Chandigarh chair. Extra dining has been added behind the fireplace. And art comes and goes, depending on what Granger wants to add to the space.
As for legacy, it didn't take Granger long to notice Bills' influence, but he feels that it's only in the past 15 years that other operators have begun to capture its spirit.
"That essence, that warmth and friendliness, mixed with the design and a good quality product," he says. "People started to understand that formula."
— Reflection by Matt Shea, on behalf of the jury